NOTE: This is a repost from the Department of Education's Official Blog
1. Tuition Refunds and Credits
Due to COVID-19, some schools closed and many classes moved online or were cancelled. As a result, your school may offer you a refund that you can use to pay existing loan debt or a credit that you can use to pay for future education-related expenses. For more information about your school's current policy, contact the office of the bursar or your financial aid office.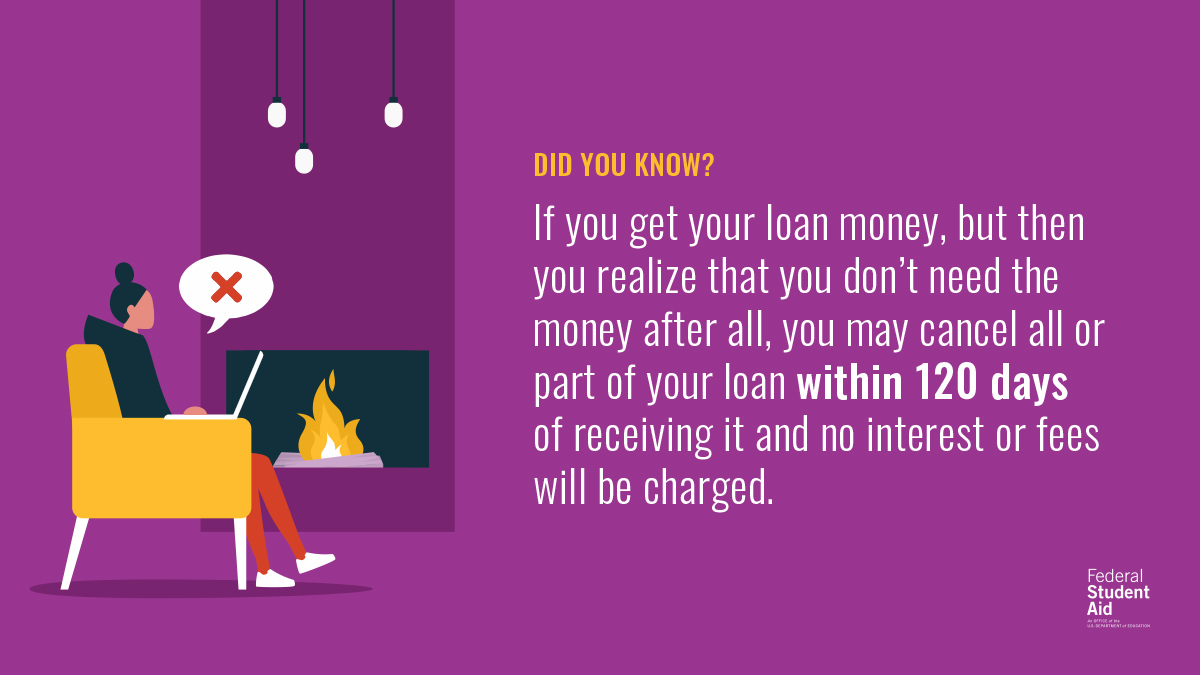 If you accepted a larger loan amount to help pay for room and board but your situation has changed due to COVID-19, you can return part of the aid you received to lower your total balance owed. Talk to your school for more details.
2. Federal Financial Assistance
CARES Act Emergency Grants to Students
On March 13, 2020, President Trump signed into law the CARES Act, which provided additional funding to institutions of higher education to make Emergency Cash Grants available to eligible students. The purpose of these grants is to provide financial support to students who may have experienced disruptions related to COVID-19. The grant may be used for tuition, housing, food, childcare, supplies, computers, transportation, and other education-related expenses. For tax purposes, these grants are considered emergency assistance (not financial aid grants or scholarships).
These grants must be paid to you in cash (which could include a pre-paid card or other electronic method) and should be used at your discretion to pay for necessary expenses. For example, your school couldn't apply your grant to outstanding balance on your account without your permission. Additionally, these grants should not be subtracted from your financial aid eligibility or award.
Your school may develop its own formula for determining who should receive an Emergency Cash Grant, and not all students are eligible. Your school is required to disclose on its website how it is distributing these funds, how many students have received this grant, and how many dollars have been distributed to students. Reach out to your financial aid office to see if you are eligible to receive an Emergency Cash Grant during the fall term.
Federal Financial Aid Adjustments
Although schools are not required to adjust federal financial aid awards, they can consider your special circumstances, such as unanticipated loss of income, and make appropriate adjustments to your aid award.
If this applies to you, contact your financial aid office immediately for information about how to request a special circumstances review.
Restoring Grant and Loan Eligibility
Both federal grants and federal student loans have maximum lifetime limits, meaning that once you've received the maximum amount, no additional aid will be available to you. If you withdrew from college due to COVID-19, you may be eligible to have Direct subsidized loans, TEACH grants, or Pell grants you received during that term excluded from your maximum limit. This means your eligibility for future TEACH grants or Pell grants will be restored.
It is always a good idea to check your lifetime utilization to be sure you do not run out of aid eligibility before you complete your program. Log in and view your dashboard to check your Federal Pell Grant Lifetime Eligibility use. Learn more about lifetime limits and how they are calculated.
Federal Work-Study (FWS) Wages
If you were denied FWS wages for a job you started and were displaced from due to COVID-19, check with your financial aid office to see if you can be paid those lost wages now. If you did not start your FWS job prior to March 13, 2020, and have been denied an opportunity to work because of COVID-19, check with your school's financial aid office to see if there are other campus-based aid dollars available to replace lost FWS wages due to COVID-19.
3. Flexibilities for Continuing Enrollment During COVID-19
Approved Leave of Absence
If your travel-abroad program was cancelled or you became ill, your school may have offered you the opportunity to apply for a leave of absence. If granted such a leave, your school may transfer the financial aid you received for that term over to your next term. Contact your school's financial aid office to find out more about the current leave of absence policy and financial aid options available.
Satisfactory Academic Progress
You must meet your school's standards for satisfactory academic progress (SAP) toward a degree or certificate in order to continue receiving federal financial aid. Satisfactory academic progress may include completing a certain number of credits within a given period of time and may also include meeting minimum grade point average (GPA) requirements. If you believe that your failure to complete enough credits or meet minimum GPA requirements was the result of COVID-19, you should contact the school's financial aid office to explain your situation. The CARES Act provides some exceptions for students who failed to meet SAP due to COVID-19 hardships or interruptions.
4. 0% Interest Period and Historically Low Interest Rates
Direct unsubsidized loans normally accrue interest while you're in school. However, from March 13, 2020, to Dec. 31, 2020, the interest rate on all U.S. Department of Education (ED) owned loans was temporarily lowered to 0%.
Tip: If you can afford to make payments during this period, you will pay off your loan faster and lower the total cost of your loan over time.
To find out what type of loans you have, follow these steps:
After you log in with your username and password (FSA ID), you will be able to see your loan(s) listed on the StudentAid.gov Dashboard.
Click "view details."
Scroll down to the "Loan Breakdown" section. If your loan(s) is owned by ED, you will see "DEPT OF ED" before the loan servicer's name. These are the loans eligible for the 0% interest rate.
After Dec. 31, 2020, the 2020–21 federal student loan interest rates will apply. These are among the lowest fixed interest rates in federal student aid history.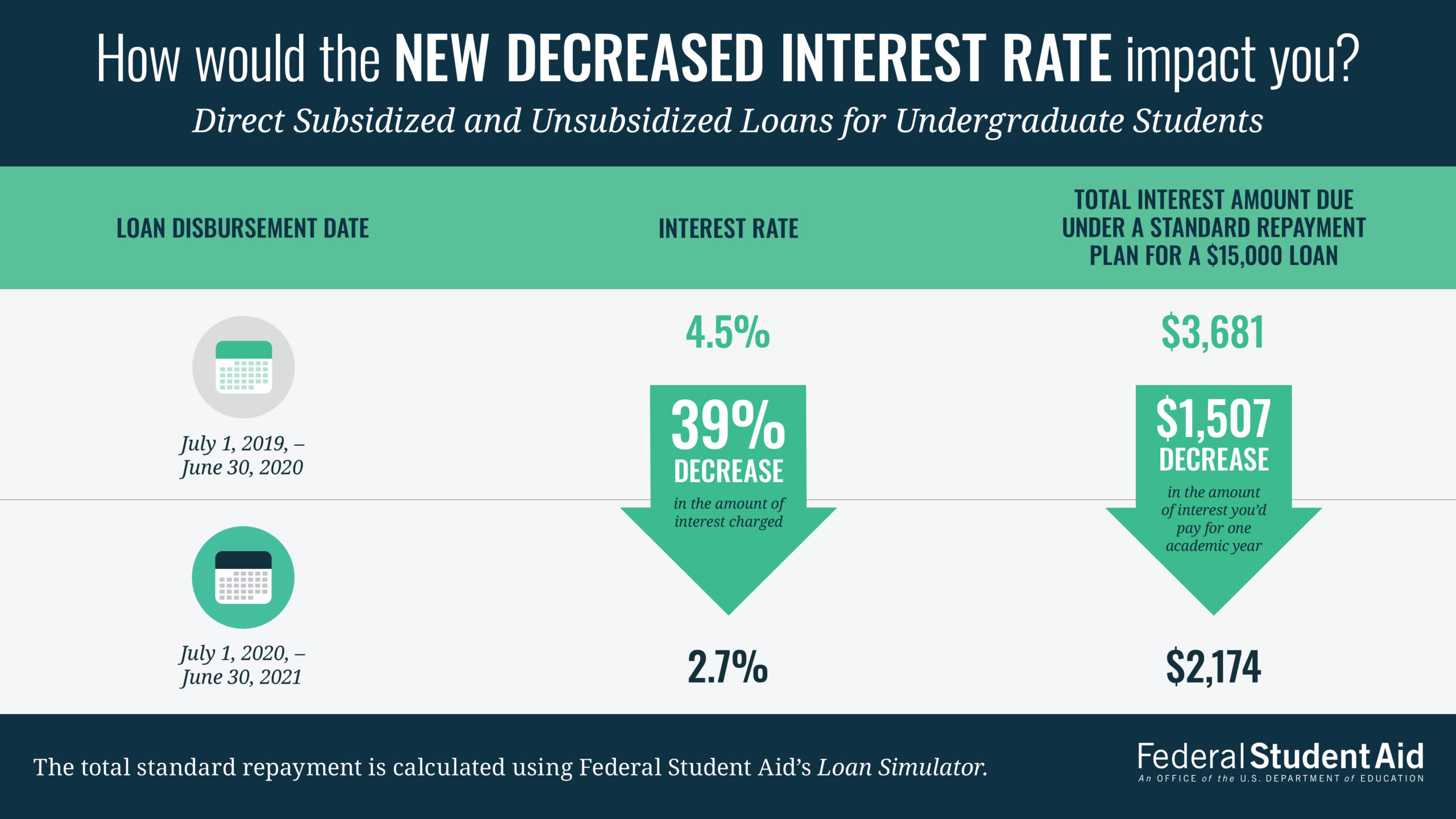 Despite these low interest rates, always be sure to limit your borrowing to only what you need. To help you decide how much you can reasonably afford to borrow for school, use the College Scorecard. It has data for some schools on your potential salary after completing certain fields of study.
5. Transferring Schools
If you're considering transferring schools or enrolling at a different school during COVID-19, research school-specific data with the College Scorecard. If you're looking for a school in your area on the College Scorecard; click "Show Me Options" and select "Schools Near Me" to search within a set number of miles from your location.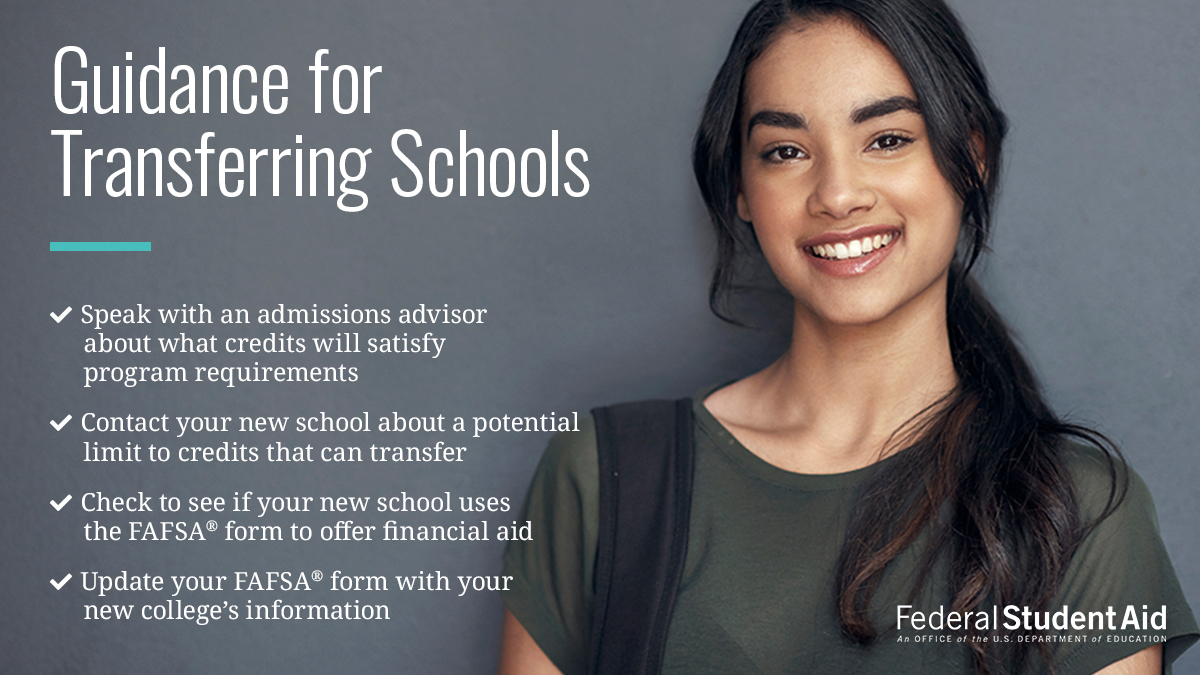 Be sure to review how many credits the new school will accept based on work you already completed. If you plan to return to your regular institution after COVID-19, verify that credits earned at the school you plan to attend temporarily will be accepted by your home school.
Tip: Confirm that transferred credits will count toward the requirements of your major, not just as electives or general education requirements.
6. Postponing Your Education
If you're thinking about delaying your education (e.g., taking a "gap year") or pausing your education, here's what that could mean for your financial aid.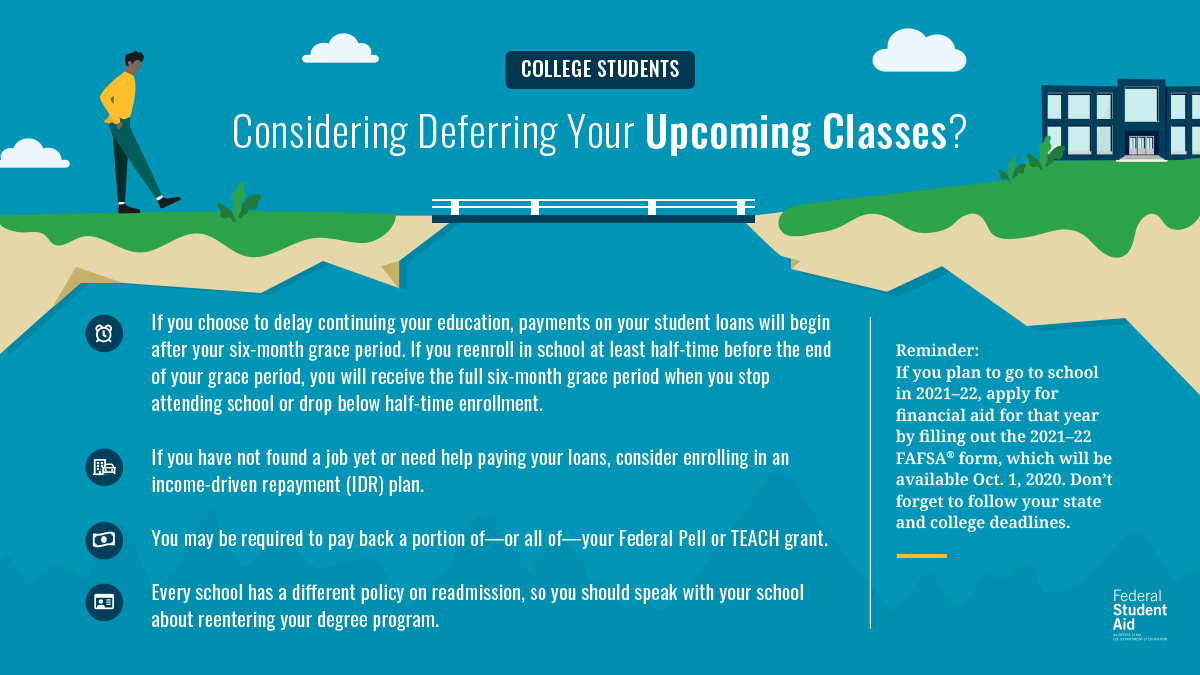 Disclaimer: This article contains general statements of policy under the Administrative Procedure Act issued to advise the public on how ED and Federal Student Aid (FSA) propose to exercise their discretion as a result of and in response to the lawfully and duly declared COVID-19. ED and FSA do not intend for this article to create legally binding standards to determine any member of the public's legal rights and obligations for which noncompliance may form an independent basis for action.